This ALERT is a special message from Minuteman Civil Defense Corps!

ALERT: Congress is ready to GIVE UP on securing our borders against illegal immigration - unless WE do something about it NOW!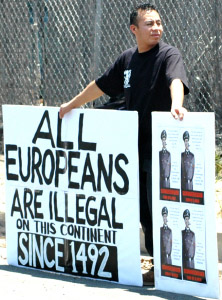 Senator Lindsay Graham of South Carolina has said it most bluntly, "We're gonna tell the BIGOTS to SHUT UP"! 
Graham was speaking in front of La Raza, a group that openly collaborates with MEChA, RADICAL- RACIST Chicano extremist political organizations that actively seek the removal of all "white Europeans" from the western U.S.
Sen. Lindsay Graham showed where his true loyalties lie, as he received La Raza's award for his efforts to pass an amnesty bill on their behalf. Sponsored by Sens. Ted Kennedy and John McCain, this bill is a destruction of American sovereignty and the essential rights and duties of U.S. citizenship.  
Now the House of Representatives is considering the "Hope Fund Act of 2007" to give more hard-earned U.S. taxpayer dollars to La Raza and their racist, hate group agenda.  H.R. 1999 provides appropriations for "assistance" for the National Council of La Raza and the Raza Development Fund.
Tomorrow, on May 1st, anti-American lawbreakers will take to the streets, again demanding special treatment and threatening sedition and violence in order to get U.S. citizen rights - and if you dare to object to their hate-filled program, YOU will be labeled a racist!
DO NOT BE SILENCED BY SEN. LINDSAY GRAHAM - STAND UP! MAKE YOUR VOICE HEARD!
Send YOUR blast faxes to ALL 535 of these Congressman NOW, Demanding that they secure our borders and say NO to amnesty:
Select Here to STOP Amnesty NOW!
Recently, President Bush stood on the border in Yuma, Arizona, and absurdly declared "mission accomplished" in securing our border against the human tsunami of illegals continuing to pour in to our country day and night - as uncontrolled migrant labor, drug and gun runners, sex-slavers, and potential terrorists.
He then stated his belief that now he will be able to sign a bill of "comprehensive immigration reform" - in other words, AMNESTY - by the end of the year, which would include a so-called "guest-worker" program, along with a path to BUY legalized citizenship for millions of illegal aliens and the 623,292 fugitive illegal aliens in the U.S. who have been LOST by Homeland Security.
Sen. Harry Reid's office reports they are receiving more phone calls from pro-open border, pro-illegal advocates who support amnesty and citizenship "forgiveness" legislation.  They are getting calls from people who do not even speak English very well.  Obviously, our opposition is very well mobilized and they know that making these phone calls work, even if those calling are NOT here lawfully, NOT U.S. citizens, not U.S. voters.  Reid's office is nonetheless counting these calls and where they come from.
 
I recommended that we start making more phone calls into his office as well as all Democrats, expressing our disdain and ABSOLUTE REJECTION of amnesty and special citizenship provisions for illegal aliens, and to emphasize the need for greater border security.
 
It is time to rally the troops from coast to coast to call Harry Reid's office and tell him we do not want amnesty for illegal aliens.  The feds need to uphold and enforce our immigration laws.  Look at history and see that in 1986 amnesty did not work and it will not work now...  This country cannot afford feckless and dangerous political pandering at the cost of our national sovereignty and security.
 
The numbers to call are  (202) 224-3542 , or 1-866-220-0044 or  1-866-340-9281
So... Congress is ready NEXT WEEK to debate and pass legislation to fool the American people and supposedly address the causes and consequences of the flood of illegal crossings swamping America's southern border. BUT... in fact, this plan would change almost nothing on the ground there!
We have held up the "Amnesty-Bill" so far, but only with our continued combined efforts will we be able to hold this line against the special interests, the leftists and the useful idiots who think America can sustain all attacks upon her without losing her liberty!  Help us make our government step up to its responsibility to protect our national security, our national sovereignty, and the public safety of all American citizens and legal residents!!!
We MUST demand that Congress secure the border NOW and say NO to any amnesty program for illegal aliens - before it's too late!
Send YOUR blast faxes to ALL 535 of these Congressman NOW, demanding that they secure our borders and say NO to amnesty:
Select Here to STOP Amnesty NOW!
NOTE:  We need TENS OF THOUSANDS of faxes delivered to ALL Congressmen right away.  Be sure to send this Alert to EVERYONE you know who wants to help STOP "guest worker" amnesty for illegal aliens! Thank you!
You can also send a FREE message to your Congressman and Senators, demanding they secure our borders, enforce our laws and STOP amnesty for illegals.   For the latest Minuteman News go to www.minutemanhq.com/hq
Just go to http://capwiz.com/sicminc/dbq/officials
YOU can make a REAL DIFFERENCE. The politicians will talk; the liberal media and the "Hate America" crowd will offer AMNESTY to law breakers.  The Minutemen will ACT in defense of America!