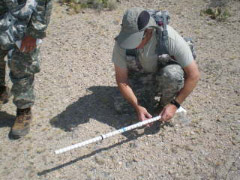 Members of the Arizona MCDC (Minuteman Civil Defense Corps) Search & Rescue Team trained in the Altar Valley this past weekend to expand their skills for saving lives and locating people lost in the desert.  Members of this highly trained search and rescue team traveled from all over the state to attend this training session designed to teach grid searches and tracking.  This training is one of many that MCDC SRT team members are required to learn as part of the group.  With the assistance of one of the best law enforcement trackers in the State, the new skills acquired by the members of the team will help to locate lost or injured illegal aliens and then report the location to EMT's and to Border Patrol.
"What we learned out here this weekend, will save lives", said Peter Leeds, training director for the search and rescue group.  "The teaching we got today was first class, and improves our skills as a Search & Rescue team."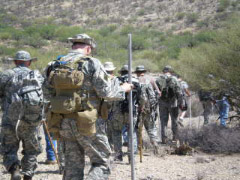 "As of today the Minutemen have saved over 300 illegal aliens lives, by providing the necessary aid and notifying Border Patrol of their location", the MCDC Search and Rescue director said.  "Many of the illegal aliens we find have been abandoned by their coyotes, and lost in the desert for days without food or water. Most are very happy to see us, as they realize they would die in a short time without help".
After completing the training the minutemen were faced with utilizing some of their skills as several MCDC SRT members spotted a small campfire in the desert.  Upon further inspection they found two illegal aliens who were desperate for help.  The illegal aliens said they had lit the fire to attract attention, they had been lost in the desert for 4 days and the last day they had no water.  Border Patrol was contacted and arrived quickly to apprehend the illegal aliens.
The MCDC Search & Rescue team was established just over a year ago.   Extensive training is required of each volunteer member, including becoming nationally certified in Search & Rescue, learning CPR, First Aid, and GPS navigation.  Each member is required to carry 2 gallons of extra rescue water, and first aid kits to help any person they encounter in the desert.
The Minutemen Civil Defense Corps (MCDC) is a peaceful, law-abiding and citizen-led initiative organized to stand watch at our borders, report illegal activities to the proper authorities, and build border fencing on private lands using private donations.  Additionally, MCDC seeks to urge local and federal officials to enforce our immigration laws in order to keep our families and country safe.  MCDC conducts border watch operations that assist the activities of the U.S. Border Patrol, reports employers of illegal aliens, and advocates to keep tax dollars from being used for illegal alien benefits.

Tucson Chapter Leader
Tucsonmm@msn.com