OCTOBER MUSTER INFORMATION

JOIN US IN ARIZONA
SEPTEMBER 30 THROUGH OCTOBER 28, 2007
FOR
OPERATION "SECURE AMERICA"
AND
FUN, FELLOWSHIP, PATRIOTISM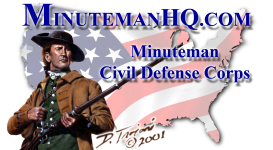 This year's month-long, fall muster is dedicated to the Border Patrol. "Dedicated", "Brave", and "Diligent" are words frequently thrown around loosely these days, but they really do apply to the men and women of the BP. We know because we observe them day in and day out while we are on musters. So this October we are going to do our best to support their activities.

Opening day will be Sunday, September 30th, and we will end the muster on Sunday, October 28th. An event day is planned for Saturday, October 6th, that includes a rally, guest speakers, and a "Women Only" day shift.*

Operations will be in both the Altar Valley and Green Valley. Each represents different challenges, and we will be experimenting with different types of line operations. Also, we should have improved our infrastructure by the time the muster begins. As we get closer to September 30th, I'll provide you with more details. Volunteers. . . never has the need to support the Border Patrol been more urgent!

Thank you for being an MCDC Volunteer. You are a credit to your nation and a dedicated Patriot. We look forward to making this a successful event with you. If you have questions or concerns, please feel free to contact Marcia Ridgely at mr_r@cdemail.com.

We appreciate your time and service to continue sending the message to our politicians that the American people demand the government fulfills its obligation to us by securing the border.


Arizona State Director
Minuteman Civil Defense Corps


Please note the following schedule applies to Three Points, Altar Valley only.
Information regarding Green Valley operations will be provided at a later date.
Date
Special Event & Time
Regular Shift Schedule
Midnight
to 8 am

8 am to
4 pm
5 pm to
Midnight
Sunday,
Sept 30
Start of Muster &
Welcoming Greetings
3:00 pm
 
 
 
First shift of Oct Muster
5:00 pm
 
 
X
Oct 1 - 5
 
 
X
X
X
Oct 6
Rally
10:00 am
X
Women Only
Day Shift*
X
Oct 7 - 26
 
 
X
X
X
Saturday,
Oct 27
Cookout & Closing Remarks
3:00 pm
X
8 am – 3 pm
only
Last shift of
muster
Sunday,
Oct 28
Break down camp
8:00 am
 
 
 
* Women's Shift – Those wishing to participate in this special shift must RSVP to Connie Foust at conniefoustmcdc@yahoo.com.
Muster Contact Personnel
AZ MCDC State Leader
AZ State Operations Director, TucsonMM@msn.com
AZ Muster Coordinator: Marcia Ridgely, mr_r@cdemail.com
Sector Chiefs: To be announced
MUSTER REQUIREMENTS & DETAILS
VOLUNTEERS (NEW AND RETURNING)
ALL VOLUNTEERS must sign in for their shifts one hour ahead of time. ALL MINUTEMEN will check into the HQ office upon arrival to sign-in, sign up for the shift of your choice, go through admin to update our database, and receive a temporary ID card if you do not have your permanent ID Card. You MUST sign-up for your shift every day you plan on operating.
NEW VOLUNTEERS will fill out a registration form on site, go through a background check on site, be interviewed and attend the mandatory training class prior to being allowed to take a post. You must be 18 years old to become a Minuteman. There is a $50 registration fee, waived for any CCW Permit holder. If you are racist or a felon, please do not waste your time. Note: It will be faster and easier if you complete your registration form before coming to the Muster. You can find the form and instructions online at www.minutemanhq.com/hq. Click on "Volunteer" at the left side.
NEW VOLUNTEERS must receive training before attending a shift. Training Classes will be held at 2:00 pm daily. New Minutemen are required to take this class prior to going on the lines. There is no exception. Come to class prepared with paper/pen, a personal printed copy of the Standard Operating Procedures and Training Manual. You can get these items from www.minutemanhq.com free of charge.
For equipment and supply lists (what to bring, etc.), go to http://www.minutemanhq.com/hq/borderops.php
To get your State Land Permit application, go to http://www.land.state.az.us/programs/natural/rec_permit.pdf
DIRECTIONS to Kings Anvil Ranch, Altar Valley HQ:
Take Rt 86 (Ajo Hwy) West from Tucson to Three Points. From there, take RT 286 South to mile marker 38. Go past that mile marker about 300 yards and make a right hand turn onto a dirt road. This is the entrance to the King Anvil Ranch. Go approximately ½ mile to the main camping area. Do not park in the main house area; park in the open field that has been designated for parking. Please keep your speed down, as this is a private road.
Each volunteer is asked to come prepared to post with a personal two way radio if you have one, a cell phone, cooler with water/food, lawn chair, binoculars, dressed appropriately for the terrain and weather, night vision if you have it. Please get an earpiece for your radio if you can. Come prepared to the shift briefing 1 hour prior to being posted. For example, if your shift starts at 5:00 pm, please be on site at 4:00 p.m.
If you would like to volunteer for a communications shift during your stay, please contact Steve Lane at daysleepr@cox.net.
If you would like to volunteer for Admin, please contact Marcia Ridgely at mr_r@cdemail.com.
If you wish to be a Line Leader, please contact Bob Price at bprice777@comcast.net.
WEAPONS:
Side arms are permitted but not required. Side arms must be holstered at all times. Long arms are permitted but must be kept in your vehicle. Concealed side arms require a CCW permit. Violations of weapons rules are grounds for suspension or dismissal. Please review your Training Manual and SOP about gun safety and handling while with MCDC. There is no excuse for improper gun handling.
LODGING:
You will be able to camp at the base camp in tents or dry RV camping. There are no hook ups or electric provided. MCDC asks for a $1 per night, per person camp fee at base camp as a donation. You will pay that fee upon registration, cash only. PETS MUST BE SECURED ON POST. Any pet brought to camp must be on a leash at all times or in your tent/RV, and you must clean up after your pet as well. Porta Potties will be provided as usual, but there will be no base camp showers. Remember, you are camping on private property where the land owners live and operate the ranch daily. Please keep your site clean and free of trash. Do not leave food items out, critters run rampant there.
Camping with hook ups is available at the Tucson Rifle Club on RT 86 in Three Points. Please contact them at 520-822-5189 for information on fees and reservations. They also have tent camping available and showers. They are happy to accommodate MCDC volunteers.
Camping is also available down the road from our base camp with hookups at an RV campground, Caballo Loco Ranch. Rates run $15 day full hook up, $10 per day no hook up. This is located on Hwy 286, and has an 8 miles dirt road before getting to the campground, well graded. They are happy to accommodate MCDC volunteers. Contact Clifford Rhoads at 520-449-0616 for reservations.
Hotels/motels are located in Tucson, right off of I-10 along S. Freeway Rd. and on Starr Pass Blvd.
Travelodge, 520-622-8089, $46 a night, continental breakfast
Howard Johnson, 520-622-5871, $38 a night, continental breakfast
La Quinta (520)624-4455, $95 a night, continental breakfast
Motel 6, 520-624-2516, at your own risk
*Note: Rates are plus tax and may vary; please call your selected hotel for current rates and availability.

WEATHER:
October in Pima County is usually still warm, with daytime temps 85-90, night temps 55-60. Check the weather service for more up to date weather forecasts.