Minuteman Civil Defense Corps February 2008 Muster: The Invasion Continues.
Braving near freezing temperatures, 60 volunteers of the Minuteman Civil Defense Corps spent 56 hours last weekend manning observation posts in various locations in the Altar Valley area of Arizona.
Our well-trained search and rescue volunteers assisted Border Patrol and BORSTAR, making three life-saving rescues of suspected illegal aliens.
On Thursday night as volunteers began arriving early for the weekend operation, after setting up their travel trailer two Minuteman Civil Defense Corps volunteers answered a knock at their door only to find a young married couple, both from Mexico City, who told the volunteers they had been left in the desert by their coyote. The couple had been lost and without food for eight days. The young woman, aged 22, was in tears as the volunteers provided them cookies and coffee even offering a warm jacket for the young woman who was in the early stages of hypothermia. Border Patrol was called and later arrived to take the couple into custody. The husband-and-wife, who were both illegal aliens praised and thanked the Minuteman volunteers for their humanitarian and caring assistance.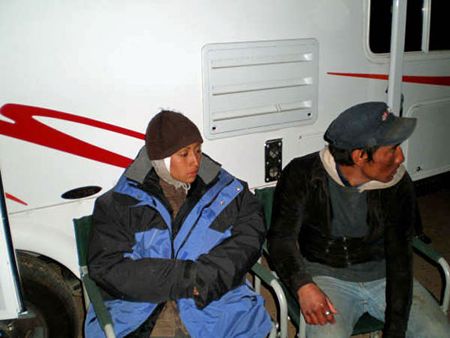 Another volunteer, and member of the Minuteman Civil Defense Corps search and rescue team also encountered a male illegal alien who walked into the camp and asked for assistance. The man reported he had been left in the desert and had been wandering for 12 days with very little water and no food. His feet were seriously blistered and the search and rescue volunteer provided first aid as well as water, food and comfort. Border Patrol was contacted and arrived to take custody of the man from Mexico who thanked the Minuteman volunteer for his humanitarian and caring assistance.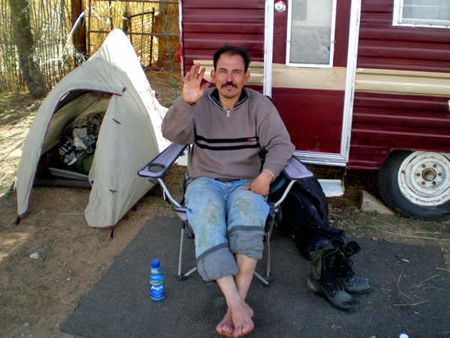 In the first evening shift MCDC volunteers spotted 18 suspected illegal aliens on Friday night and spent two hours assisting Border Patrol who responded to the sighting. Using our "eye in the sky" (EITS) thermal cameras volunteers directed Border Patrol agents, who chased the 18 individuals numerous times over a two hour period. Yet 17 of the 18 managed to escape apprehension by the Border Patrol agents. Every time agents would get near the group of suspected illegal aliens they would run in all directions, only to re- group and attempt to continue their travels northward. This cat and mouse game continued on for hours until Border Patrol agents finally gave up due to a shift change.
Later that evening Minuteman Civil Defense Corps, search and rescue personnel provided life-saving assistance to a young woman from Guatemala, who was found wandering in near freezing rain. The young woman was suffering from stage one hypothermia. Volunteers provided her a dry jacket and shelter until the Border Patrol could pick her up.
A Saturday dayshift resulted in no sightings, yet Minuteman Civil Defense Corps volunteers provided assistance to two illegal aliens who had quit and were found standing along the roadside in the area. During the day, scouting teams located various trails each with an abundance of signs of fresh activity in the Altar Valley. Using the Intel gathered during daylight hours, on Saturday night volunteers split into four separate teams working four separate areas marking an unprecedented effort for Minuteman Civil Defense Corps volunteers.
A search and rescue team was deployed near Arivaca, Arizona, who at the request of a rancher worked security and set up observation post in a high traffic smuggling area. The team arrived at the ranch only to find two individuals dressed in all black running from the rancher''s home. The individuals had broken into the home and were in the process of ransacking the house and filling boxes full of personal articles that would have made their way back to Mexico had the search and rescue volunteers not caught the thieves red-handed in the act.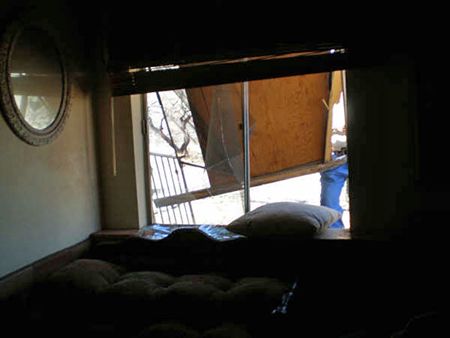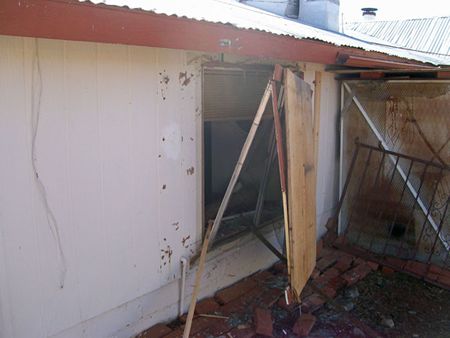 As the evening progressed, all four Minuteman Civil Defense Corps teams encountered groups of suspected illegal aliens moving through or near their posts. Border Patrol agents responded with ground personnel, as well as air support, sending in two Black Hawk helicopters in two separate locations. By the end of the Saturday night shift, Border Patrol agents were engaged in tracking and attempting to apprehend well over 100 suspected illegal aliens who were spotted by Minuteman Civil Defense Corps volunteers.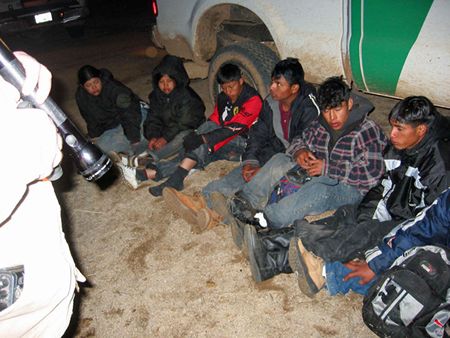 After over an hour chase, this group of 13 illegal aliens were finally apprehended by Border Patrol using a Blackhawk helicopter.
Agents are reporting that groups of illegals refuse to stop and surrender making their job much more difficult.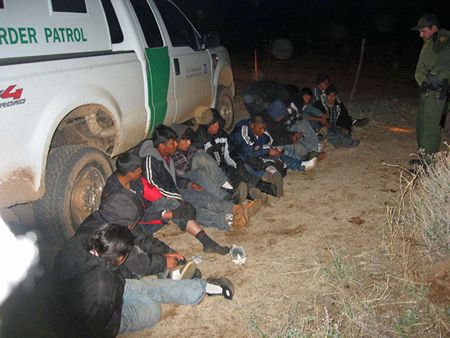 Agents are also reporting an increase in violent attacks and keep a close eye on all individuals.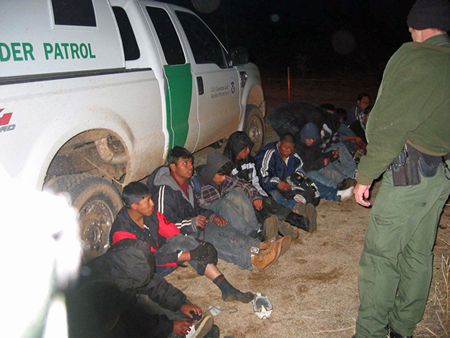 To prevent the groups from getting up and running away, agents require many in the group to remove their shoes.
Agents are taking no chances as they handcuff many of the males together and thoroughly frisk every individual.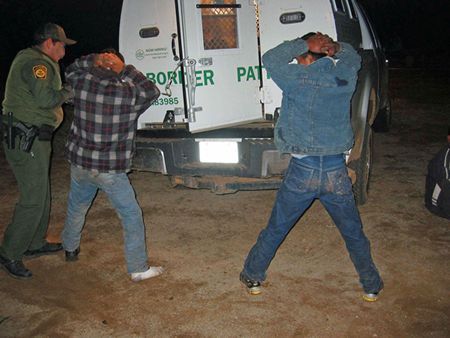 The weekends totals:
MCDC Volunteers -60
New First Time Volunteers-12
Total Sightings-120
Rescues-3
Confirmed Apprehensions-18
As always the volunteers provided important information to the proper authorities and directed law enforcement personnel to intervene in suspected illegal activity. Volunteers also provided humanitarian aid and comfort to those found afflicted by the elements and by their government''s lack of providing economic opportunity in their homeland.
The Minuteman Civil Defense Corps national directors, along with the American people thank the courageous volunteers for their service to our country during the February muster in Arizona.
The next Arizona operation will take place March 14 through March 16 and make your plans for the April operation, which begins Friday, April 4 and runs through Saturday, April 19. To learn more about Minuteman Civil Defense Corps border operations visit www.borderops.com.
As always, thanks for everything you do for our organization, for our movement and for our country.

Chris Simcox
President, Minuteman Civil Defense Corps